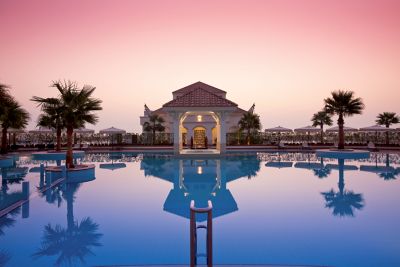 Mövenpick Al Khobar Beach
Restaurants & Bars
The Place to Savour Life
We believe in indulgence done right, treating our guests to deliciously fresh cuisine, abundant treats and flavours that are unmistakably Mövenpick, all served with a generous portion of heartfelt care.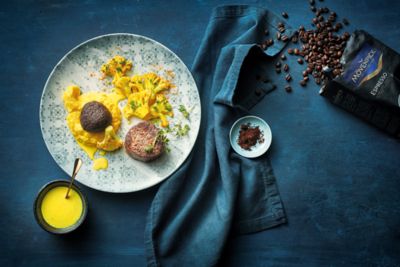 Facilities & Activities
Where Life Tastes Sweeter
Help yourself to the good life at Mövenpick. From sunny pool days to indulgent spa time, energising workouts to immersive cultural experiences, we invite you to drink it all in.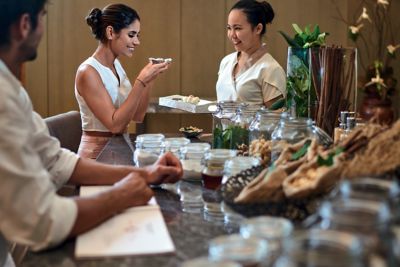 Meetings & Celebrations
Memorable Meetings & Sparkling Celebrations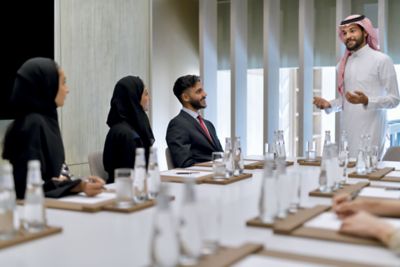 scroll up for previous option
Meetings that satisfy
With enticing venues and a menu of professional services, our meetings solutions are a recipe for success.
Find out more
scroll to show detail options
Reviews
mahaAbdullah2021
12/09/2021 From Tripadvisor
My stying in movenpick Beach Resort Al Khobar
Its one of my very good experiment staying in Movenpick Beach Resort Al Khobar everything is beautiful and definitely I recommended to others. I booked a suite with two floor it was big and convenient Especially the bedrooms have a balcony overlooking the garden and also the living room down all the walls has a view to the garden and also there a kitchen that you can cook your meals there. out side there a football and volleyball play ground and a children's play area. the beach is near and also there a very good restaurant.
Ahmed1958111
25/07/2021 From Tripadvisor
Family Vacation
Clean & Large Home with large living and dining room. Description indicated a Privet Pool that did not exist at all. Public Swimming pool reduced to half upon creation of Female Swimming Pool, TV channel limited and should be expanded
Nadiaalbattal
13/04/2021 From Tripadvisor
Bad experience
I am really upset of the experience that we had and disappointed. First : the hotel include sea but there is no any relaxing bed on the sea and we have to set on the sand , they allows visitors to access the beach so its two crowded and unpreasentable people access the hotel Second : no security at all beacuse the allow everyone access the hotel , one of the visitors ask my kids what is his villa number so he can give it to the swimming pool guard if he ask him Third: the room service we tried to call them more than 5 times then they answered. I am really upset and i will not reserve in thia hotel again .
aha1976
18/08/2020 From Tripadvisor
Best Khobar beach resort
1st time stayed my family feel welcome as the villa is clean and comfortable. The surrounding was organized and maintained. Except the front office staff need to be more friendly and professional. We will come again.
PRABHAT S
13/09/2019 From Tripadvisor
Excellent Hospitality !!
I have had a long stay at the Hotel (two weeks and counting) and am really impressed by the level of hospitality that I have experienced. All the staff are very courteous, attentive and respond quickly to your requirements - make you feel absolutely at home. I had dinner in my room most nights and the in-room dining staff, particularly Tajul Islam really took care that my food was prepared according to the preferences that I indicated. The service was always on time and delivered efficiently. I had a sea view deluxe room and the room size was very good - much larger than comparable rooms at the other 5 star brands. The bath room was again of a good size with a separate walk-in shower and bath-tub. The Hotel has a decent sized gym which provided me with all the workouts that I required - it also had sauna and steam that I did not use. All in all - a great stay!!
Frequently asked questions
Mövenpick Beach Resort Al Khobar is located in Aziziyah, on Halfmoon Beach within Al Khobar.
Our hotel address at Mövenpick Beach Resort Al Khobar is: Halfmoon Bay Road, Azzisiyah, Al Sufun 34823, Al Khobar, Saudi Arabia.
Mövenpick Beach Resort Al Khobar is located on the popular Half Moon Beach, where you enjoy a lovely walk alongthe Gulf Sea all the way to the King Fahad causeway.
Mövenpick Beach Resort Al Khobar has been serving hotel guests for 10 years.
Here are some of the property amenities hotel guests can expect to find at Mövenpick Beach Resort Al Khobar:
36 contemporary & elegantly furnished duplex villas
Furnished Kitchen
Lagoon beach 
Free form swimming pool
Fitness centre
The Retreat Wellness and Spa
Beachfront restaurant
Meeting & events facilities
Private Dining Room at Azure